This morning I awoke to the classic winter wonderland out the window, Minnesota making good on her climatic commitment to give us that freshly powdered-sugar look in time to get jolly for the holidays.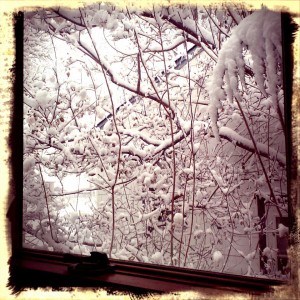 It makes me wistful and want to build a snowman, but I don't have time… I have to get my hustle on. And my bustle.
I'm a professional Christmas caroler, one of a group of five. The good old-fashioned Victorian-costumed kind. We start rehearsing Christmas in July. We know the names of all the reindeer and all the verses to Good King Wenceslas. We know your favorite.
We sing at Brit's. Have been for years. We're the holiday house band.
It's the kind of traditional British pub where you can enjoy fish & chips or bangers & mash and watch the match on the telly with your mates. There are lots of photos of the Queen Mum. They offer a proper tea, with little pots of jam and fancy sandwiches with the crusts cut off. Warm, welcoming, Brit's is always packed, merry and full of cheer.
Yesterday we were back in our old green room, laughing and reminiscing and stepping on each other, dressing and getting theatrical. We took a minute before taking stage to tell each other why we love to carol, why coming back to Brit's is so vital to our holiday celebration.
We're singers and actors, for certain. Practicing our craft for an engaged audience is key. But it is more. The music reminds us of that halcyon holiday, the sugar-plum-fairy, spun-sugar, yes-there-really-is-a-Santa celebration that so often seems relegated to the movies. The music makes it real. People sing along, strangers smile at each other, folks scoot a little closer together and make room for one more person at their table, someone sneaks a kiss under the mistletoe.
The fruits of our labors are even better than fruitcake. We're friends. We make music. We make new friends.  Jolly Holidays!