The 5 Ws & the H
Who What Why When Where & How
Give "not good enough" The Bird
Today blessed me with three uninterrupted hours.  I had planned to use all of them digging into the inspiring book The War of Art – Break Thorough the Blocks and Win Your Inner Creative Battles; but by page 39, Steven Pressfield had convinced me that I really am a writer, so I tossed his tome aside to work on The Ninja Network.  At the closing buzzer I had amassed a good bit of text for the book, a crush on Mister Pressfield, and a bunch of texts on my phone.  Apparently it had been ringing like crazy.  I hadn't noticed.  I'd been creating.
Scrolling through the conversations awaiting me, I noticed the query:
"It's a beautiful day! If you could paint anything (no worries about being "good enough") what would you paint today?" ~Linda Clayton, Artist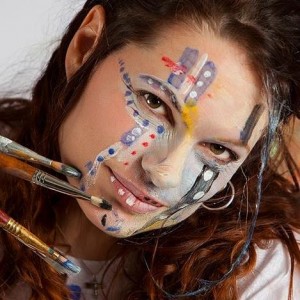 "Bird." I replied, and went on with my business.  As others flocked to add their answer, my notifications nagged and I thought, "Why not?"
So I did.  I poured my Mr. Sketch scented markers on the kitchen table and drew a Goodenuf Bird.  I'd never considered myself an artist, but Ms. Clayton and Mr. Pressfield rearranged my brain today, and everything seems possible.  I realized I am good enough.  I posted it on Linda Clayton Art.
She liked it.  Actually she loved it.  She drew me a heart.  And my heart busted with the realization that it is perfectly reasonable to give "not good enough" the bird.  (You know the one I mean…)
I asked Linda, "tell the nice people what you think about art, creativity, and being brave enough to push past resistance and follow our passions…"  Here's her reply:
I think art is silly and serious.  It's about looking at life with a sense of humor.  It's about being brave enough to bare your soul, even the dark thoughts, for all the world to see.  It's about fighting those negative thoughts in your head. Daily. Hourly. Moment to moment.
It's about sharing positive and happy perspectives.  It's about seeing the world differently and yet entirely the same as the person next to you, all at once.  It's about making the journey happier, easier, by creating a sense of togetherness.
It's about waking up every day and ignoring the voice that says "you're not good enough".
At least that's what art is for me.
Linda waged and won a battle against Resistance.  (Read The War of Art if you want to know what that means, and you do.)  On May 15th, she is showing her work at her first Art A Whirl.  If you are in the Twin Cities, give into the tidal pull of Linda Clayton Art, and check it out.
May 15 – 17, 2015
Studio 404 Northrup King Building
Start at the TOP OF THE KING!
My first year at Art-A-Whirl, and I would love to see you there. I am working on having art stations for you and your friends to create your very own piece of art. ~Linda
Art-A-Whirl is FREE and open to the public.
Friday, May 15th – 5:00-10:00 p.m. / Saturday, May 16th – Noon-8:00 p.m. / Sunday, May 17th – Noon-5:00 p.m.
Perfectly propelling POSTSCRIPT – 19 April 2015
Last night I read a note about psychology, the reciprocity of liking (or disliking), and human nature from another fave inspiration. "I don't like it that some people don't like me…." She'd had a tough day, like we all do sometimes.
I wrote, "I like you double…don't waste any of your precious beautiful happy time on the dislikers. I figure, if I ain't what folks fancy, that's none of my business."
She gave me a grin, read this blog, shook it off, sat down on the floor with her kid and the art box, and got to work. "Thanks Deena," she wrote, "The give "not good enough" the bird exercise was a fun way to discredit that [negative] thought. You are the best!!!"
Then she and her kid gave me the bird. I couldn't be more pleased!
From there it just kept getting better, as I started getting the bird from all kinds of folks!
Even one of my best Ninjas:
I hearkened back to a blog post I'd recently seen from the creator of A Bowl of Gratitude, urging Create Your Own Flight Pattern.  
And finally, I realized that Linda Clayton gave me the bird months ago, on my birthday.  Here he is, a handsome owl entitled "March On", who reminds me that I am good enough to kick my creativity into high gear.
So are you.  Got a Goodenuf Bird?  Show us!  Tag #GoodenufBird.  You get it,  you got it, go get 'em.
Love, Propellergirl