Who here has an inner control freak?
I'm confident I'm not the only one waving both hands in the air. I care.
And because I care, I occasionally operate under the illusion that I am omnipotent, letting my skill set spiral out of control until I take on so much that I find myself  blinded by stress. My heart rate rockets up and my brain locks down, like I'm being chased by bears but can't find my way up a tree.  Full on freak out.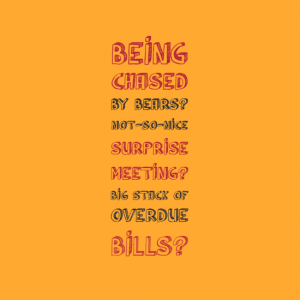 You too?
Overwhelmed, my inner control freak turns power-hungry and overbearing, attempting a hostile takeover as Chief Executive Worrier. I'm rational enough to know these freak out hi-jinks are runaway emotions; but the reality is they feel real.
I believe that if we can think ourselves into a freak out, we can work out our way out of it.
Here's how to establish a scalable meditation designed to restore calm and keep you keepin' on:  Read more →