Who are you being while you're doing what you're doing?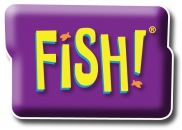 Take a virtual visit to Seattle's Pike Place Fish Market and discover simple, practical tools for bringing more energy, support, respect, and trust to work.
Innovate and create through PLAY!
Partner richly in MAKE THEIR DAY!
Discover through BE THERE!
Engage in CHOOSE YOUR ATTITUDE!
The FISH! Philosophy
Catch the energy and release the potential.  Experience the world-famous film and discover how four practices – Play, Make Their Day, Be There, and Choose Your Attitude – are relevant to such critical issues as teamwork, customer service, productivity, and employee retention.  Keep curiosity alive and trust it to lead to better solutions.  Start a customer care revolution that will get people talking.  Live in the present and invest in the future.  Love utilizing your talents and living on purpose.  Join the millions of people around the world who have created more satisfying workplaces and effective relationships through The FISH! Philosophy.
FISH! for Leaders
Employees love to "boss watch." When your employees watch you, what do they see? This in-depth workshop helps leaders inspire organizational cultures of trust, support, accountability, and creative energy. Examine leadership beliefs and styles, their impact on relationships, and their role in developing  culture and success. Through personal exercises, the FISH! practices, and videos of leaders who live them, participants determine  purpose and impact, and develop personal action plans for cultivating new skills and rich relationships. It is all about becoming the leader you want to be, in work and life.
"One of the things I love about the FISH! Philosophy is that it supports and shines a light on mission-driven organizations, encouraging leaders to leave a legacy through service and stewardship.  FISH! encourages fresh perspective, energizing the approach to strategic soft skills that yield positive hard numbers in the form of reduced churn and increased employee engagement.  FISH! focuses intention and attitude, turning interaction into relationships that last and setting the stage for sustainable success.  Really, it's all about sharing in the social profitability of our most precious workplace resource, the human."
~ Deena Ebbert
Dive in!  Contact Deena to learn more about how FISH! and FISH! for Leaders events Catch the Energy and Release the Potential.
What people are saying…
"This was the third time I have had the opportunity to see FISH! and Deena was simply outstanding. The entire audience was captivated by her enthusiasm and professionalism."
~ Diane Holm, Child Care Resource & Referral
"On a 5-point scale you received a 4.77, which may be one of the highest scores ever defined for this group. There were numerous comments about your presentation that contained the word 'Awesome'."
~ Mike Baxter, Parkview Medical Center
"Excellent! Wow! Please bring this session back!"
"Creative and engaging, with many take-home messages."
"We hear a lot about creating an experience. Deena helped me to understand how to do it."
~ Attendees, American Nursery & Landscape Association Management Clinic
"… incredibly inspiring … captivating, funny, serious, real, and overall intoxicating. You left us with powerful messages and tools to make us better professionals and people."
~ Julie B. Hirsch, Ph.D., Johnson & Johnson Consumer & Personal Products Worldwide