I had a look, back in the day. Black suit. Hair slicked into a bun. Severe. Serious. You might think I meant business. Truly, I just didn't have time for much more in the morning than quick rinse and a dash out the door. I had to get my hustle on, get to the office, plunk down in my maroon cube, and gear up to climb the Corporate America ladder.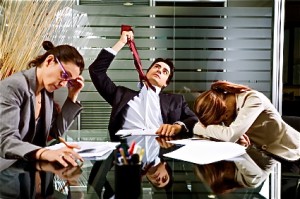 Eventually, I got my big break. My big boss got the flu, and I got to sit in for her at a leadership roundtable. I bought a new black suit. I bought a plane ticket. I bought a fresh notebook, sat in the middle seat and spent two hours at 30,000 feet imagining what the big picture of leadership might look like.
The event was hosted at the headquarters of the Top Team. They put on a show, pulled out all the stops. We got fruit baskets. At the outset, I felt like an insider.
I had traveled quite a distance with the express assignment of sharing best practices, being enthusiastic and collaborative, listening, learning, and bringing back the revealed secrets of success. While Top Team Leader was taking us on a tour of her trophies, I asked, specifically, "What is the secret of your success?"