I had a look, back in the day. Black suit. Hair slicked into a bun. Severe. Serious. You might think I meant business. Truly, I just didn't have time for much more in the morning than quick rinse and a dash out the door. I had to get my hustle on, get to the office, plunk down in my maroon cube, and gear up to climb the Corporate America ladder.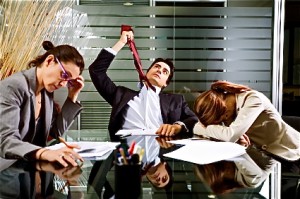 Eventually, I got my big break. My big boss got the flu, and I got to sit in for her at a leadership roundtable. I bought a new black suit. I bought a plane ticket. I bought a fresh notebook, sat in the middle seat and spent two hours at 30,000 feet imagining what the big picture of leadership might look like.
The event was hosted at the headquarters of the Top Team. They put on a show, pulled out all the stops. We got fruit baskets. At the outset, I felt like an insider.
I had traveled quite a distance with the express assignment of sharing best practices, being enthusiastic and collaborative, listening, learning, and bringing back the revealed secrets of success. While Top Team Leader was taking us on a tour of her trophies, I asked, specifically, "What is the secret of your success?"
I was met with stunned silence. None of the regular leaders had the nerve to ask. I didn't know any better.
"Mystique, my dear." Top Team Leader replied, nonplussed. "We have Mystique."  And we moved on, none the wiser.
Marvel Comics' character Mystique springs to mind whenever I hear the word "mystique" spoken in a business setting. Mystique is a supervillain and shapeshifter, not my favorite icon for inspiring collaborative cultures. Mystery and secrecy may seem sexy at the outset, but over time and distance they don't much inspire trust.
The Pros of Mystique?
Fascinating
Desirable
Mysterious
The Cons of Mystique.
Unpredictable
Unreliable
Unrepeatable
I perceive "Mystique" as a con-job. Smoke and mirrors and something I can't rely upon to path success or trust to replicate with consistency or success. It doesn't make you or anyone else any better to hoard great ideas or vital discoveries.
Winging my way home, I filled the pages of my notebook with a plan based on ideas freely shared by the other leaders. Back at the office, I decided to loosen up, ditch the black suit and the slick bun, be more forthcoming. Enthused with fresh ideas, our team tried everything, kept what worked, reworked what didn't, had adventures, were wildly successful, and shared it all with anyone who was even slightly interested.
And by the way, we trumped Top Team, took their trophy, and taught everyone else how. One of our favorite ways? The FISH! Philosophy, which I loved so much I became their Brand Ambassador. But that's another story…