The Liebster Award is a blogger to fellow blogger award; an invitation to spread the word about blogs offering great content. It's a forum to meet and greet and share the wealth of inspiration.
My darling daring Liebster Award nominees, you are the most vital part of this post, so your names are going first.  I hereby dub thee infinitely inspiring and bravely blogalicious.  I choose you for reasons beyond the power of your blog.  You wield social media with love, to create powerful interactions through literature, music, and movement.  You are:

Alyson Grauer of Dreams to Become – engaging people via literature a'la On The Isle of Sound and Wonder, letting us laugh through commedia dell'arte and the ukulele.
AE Shapera of Phoole – encouraging us to get our groove on as a DJ at Ideal Clubworld Radio, teaching folks how to Make It Worth It in your book Easy Street.
Lisa Gedney Harris of Fashion Meets Poetry – bringing every woman's personal brand of beautiful to the forefront in your upcoming book Unveiled Beauty.
Judy Victor of Leap Events – instilling empowerment, building community, and sparking unstoppable joy via lively events for women.
Rebecca Jo Malmstrom of Duckie Uglings – making the most of recycled goods and taking us beyond words into the cute-overload world of "Awe!"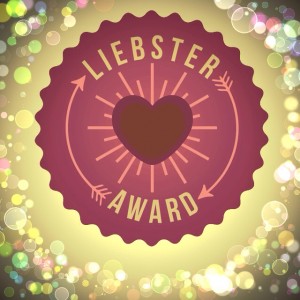 My Inspiration Ninjas, here is your badge of honor. Wear it with pride and please keep writing, grooving, and moving. When we interact with you, we win.
I was nominated for the Liebster Award by the vivacious Missy Boser, one of my Esprit de She Ambassador sisters.  She's a pip!  Please check out her blog, Getting Fit to Find Myself.  As for me, I've found several versions of the rules for the Liebster Award, and since I'm rather fond of creative interpretation, I'm dancing around them.  Following are my version of the Liebster Award rules:
Acknowledge you are mighty and awesome, and worth following.
Nominate a few fine folks who inspire you, then light the interwebz on fire with your specific praise of their brilliance. (I chose five. You're the boss of you; choose however many you please.)
Compile a list of compelling questions, and ask 'em. They're interesting. (Again, I chose five. You are still the boss of you, and can ask as exactly as many questions as amuses you.)
Answer the questions I've asked of you. I'm interested.
If you like, let 'em know who sent you. (That was me, Propellergirl.)
Aly, AE, Lisa, Judy, Becca Jo – here are your questions:
Who propels you?
What has been your biggest "aha!" from blogging?
When was your favorite risk, and why did you take it?
Where do you go from here?
How – in a single sentence – would you describe yourself?
And finally, here are my personal answers to Missy's Liebster Award questions:
What inspired you to start your blog?
One my my mentors asked me to do something that terrified me. This is it.
How did you decide on the title of your blog and what is it about?
I share a love of journalism with my mom. Who, What, Why, When, Where, and How. The 5 Ws and the H.
What is your favorite social media outlet?
The coffee shop where you and I sit and talk together, in person.
Tell me 8 random facts about yourself?
Happy to! Over coffee.
What surprised you most about blogging?
It wakes me up in the middle of the night, demanding I write.
If you think back to a younger you, did you see yourself where you are today?
No. When I was a kid, I wanted to be a mermaid.
What is your favorite fitness activity (running, swimming, strength training, etc.) and why?
I like to leap around like Spidergirl and pick up heavy things at the gym. It calms my inner monster.
If you could give advice to a new blogger, what would you tell them?
The only way you can fail is to quit. Keep writing.
Who are your top 2 favorite bloggers?
Every morning, while I'm waiting the seven minutes it takes the coffee to brew, I scan seven sources: Experience Life, Success, Entrepreneur, Inc., Forbed, Fortune, and Fast Company. Invariably there is someone I've never read before and I discover something wonderful.  I also totally crush on Stephen Pressfield.
Describe yourself in one sentence.
I propel.
You get it, you got it, go get 'em.
love, Propellergirl (aka Deena Ebbert)