The hue and cry of the 16th Annual Call Center Week was even hotter than "Vegas, Baby!"; it was a celebration of winning customer service methodologies, a meeting of the minds.
Our FISH! Philosophy Master Class on Monday was off-the-charts awesome; packed with engaged leaders sharing their inspiration and best practices.  Honored to be there, I also had the opportunity for an interview with Hannah Hager about Pike Place Fish, and the lessons we can leverage from their engaged way of being.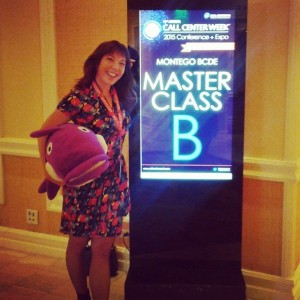 Q: What is the FISH! Philosophy? Would you explain for us the looks, sounds — and smells – of the Pike Place Fish Market in Seattle and how the fishmongers are an example for us all on how to provide excellent customer service?
A: Thanks for asking Hannah! I love taking folks on a virtual visit to Pike Place via the FISH! Philosophy. In a Master Class setting – as we experienced on Monday at Call Center Week – we do this by watching the film of the World Famous Pike Place Fish fishmongers in action, and discovering how their zest for engaged interaction with coworkers, customers, and their community outlines a business model that can be adapted for sustainability and success in myriad organizations. The market is colorful, exciting, and full of the unexpected – just like our workplaces. We carry that sensation into our class environment; where we dive into conversations that are fast paced, full of humor and insight, and the active collaboration that leads to fresh ideas.
Q: What are the most transmutable skills possessed by the fishmongers that office workers can easily employ at their desks? What are the most difficult?
A: We focus on four practices: Play! Make Their Day! Be There! and Choose Your Attitude! The beautiful thing is, you don't have to throw fish. The fishmongers tell it like it is: "The minute you try to imitate us, you're stuck. Because you're not going to have the same things happen to you in the same sequence." So skip the fish tossing and try building relationships other ways; a ready smile, engaged listening, a spirit of willingness to serve, a commitment to teamwork and trust. Truly, we can take our jobs seriously and still be lighthearted. That's how you catch the energy of FISH!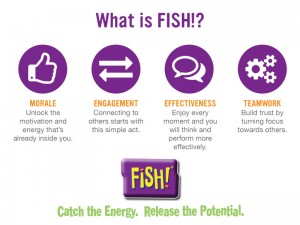 Q: You assert that an energetic and unified workforce can lead to a more successful environment. How is this achieved through the four principles at the foundation of the FISH! Philosophy for a healthy workplace and life?
A: The organizations that flourish with FISH! use Play to innovate and create, keep curiosity alive and trust it to lead to new ideas. Make Their Day builds partnerships, bridges gaps, and helps shift from the transaction to the interaction. Be There encourages us to share best practices, communicate with candor and purpose, and own our role as leaders. Choose Your Attitude is all about authenticity, living on purpose.
Q: The FISH! Philosophy takes an (ehem) philosophical approach on work. It expects employees to be passionate about serving. It also presumes them to ask themselves, "Who am I being while I'm doing what I'm doing?" Why do you feel this is important in today's modern workplace?
A: This is a favorite question of mine. Every day the world seems to spin a little faster. We get busy, distracted, distant. When we accept the invitation of FISH! and decide to be present, our interactions regain vibrancy, become intentional. We release our potential; bring the beauty of our individual contribution. I've said it more than once; the finest resource in any organization is the human. "Who am I being while I'm doing what I'm doing?" Human. We're being. Human.
Thanks to the attendees at Call Center Week and the IQPC team!  All y'all made my day!  Let's all meet again next year!
Deena Ebbert
International Brand Ambassador
FISH! Philosophy