"Some are born great, some achieve greatness, and some have greatness thrust upon them."
~ from William Shakespeare's Twelfth Night
#47LearningsForLeaders – A Quick-Start Guide for Greatness Thrust Upon Us 
Coming soon!  Here's a sneak peek:
1. We have to do it before we know how to do it.
2. Please. Please please please. Shut up.
3. Now that we have your attention… Listen.
4. Notice people.
5. Discover before you decide.
6. Everyone has a superhero skill. Suss it out.
7. Our greatest strength is often also our greatest weakness.
8. RESPECT
9. Talk to people, rather than about them.
10. Watch for wacky ideas from the new kid. Try the tried and tested from old faithful.
11. Free the "Za!"
Zest. Verve. Panache. Awesomesauce. Call it what you want, it's all personal style. The flair folks have for their own way of doing things brings personality and differentiates. Create an unfettered environment where people feel free to invest their uncensored selves, and you'll be wholly delighted with the results.
12. The corporate curmudgeon may be your best cheerleader.
13. Speak in positives.
14. Give credit where credit is due.
15. Every day is your big audition.
16. Be visible and transparent.
17. Get uncomfortable.
18. Today is a good day to be smarter than you were yesterday.
19. Ask yourself… Can you really squeeze anyone through a knothole?
20. You can start (or stop) anything. Right now.
21. Laugh at yourself.
22. Buy a disco ball.
23. Learn to ride the mechanical bull.
24. Hey cowboy, hand over the reins.
25. Start training your replacement NOW.
26. Make a list. Check it twice.
27. Say what you are going to do and do what you say.
28. Tell the truth.
29. Own up.
30. Skip the freakout.
31. Know your options and choose your battles.
32. Measure twice. Cut once.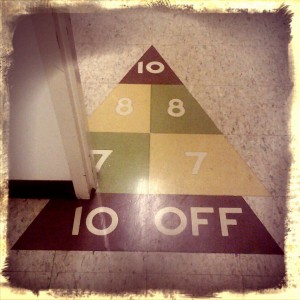 33. Encourage self-select.
34. Take seriously what others take seriously.
35. Vacation. (From the way you usually do it.)
36. Forget secrets.
37. Title entitlement is tedious.
38. If you want a different answer, ask a different question.
39. Be the first to bust a move, and boogie 'til the end.
40. Inspiration happens.
41. Timing is everything.
42. Ditch the armor.
43. Bring your gift.
44. You can do it alone, but you don't have to.
45. Macromanage.
46. Three little words. Please come back.
47. You get it. You got it. Go get 'em!