International Travel Log
JAPAN – JANUARY 2009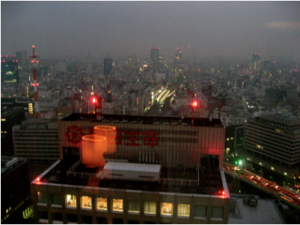 6:19 a.m. Tokyo
I am in the Land of the Rising Sun, waiting for the sun to rise. I've succumbed to the realization that my jetlag is a far superior warrior in my battle for sleep, so I've brewed for myself on perfect dose of coffee which I am sipping from a pristine Noritake china cup while I watch the emerging morning through my window to this world of undiscovered wonders.
This isn't going to be nearly enough coffee. I'm going to have to go to Starbucks. Which means I'm going to have to put on some clothes and go outside. Which means I'm going have a go at learning how to use the bathtub.
________________________________________________
7:07 a.m. Tokyo
I have to admit that, upon first glimpsing the truly modest size of the bathroom in my hotel, I was both disappointed and daunted. Well… was I wrong!
The tub is tiny, true, but very very deep and outfitted with all manner of gadgetry to ensure that the temperature of the water is to the bather's exact specifications and that from whatever apparatus it is delivered to the bather, that it is… well… delivered with attention to detail.
I have a feeling that my bathing ritual will ascend to new heights of obsessive-compulsiveness.
Don't even get me started about the fully-functional commode.