International Travel Log
JAPAN – JANUARY 2009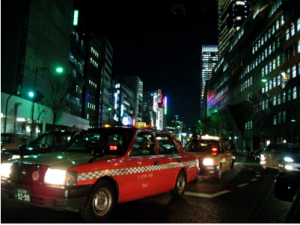 We disembarked the plane, which landed perfectly, precisely at 4:00 p.m. as scheduled, then proceeded to stand in several wrong lines for an hour or so here and there throughout the airport. Our suspicions were aroused when we got to the place where we were instructed to dispose of our liquids and gels. Then confirmed by the Brits behind us who revealed that we were "actually in the line for Bangkok". Yup. We made a joke of it much to the delight of all those Bangkok bound and high-tailed it through immigration and out of the airport.
I've got a new sticker in my passport. I love that!
A charming white-gloved chauffeur was waiting for us when we emerged from baggage claim. (It seems that I may be the object of much amusement for the locals, based on the amount of luggage I've brought. I think I'll send some stuff back with King Daddy when he goes home in a few days.) The chauffeur stuffed all of our stuff in the car and we went zooming toward Tokyo.
It is sparklingly clean here and the highways are a breeze. We passed Tokyo Disney and Cinderella's Castle, whereupon we were moved to sing "When I Wish Upon a Star" and I had to hop up and down in my seat and clap like a five year old. Dorks.
At the Hotel Metropolitan Marunouchi we were greeted by a delightful bellman (who did his best not to show alarm at the vastness of my luggage) a man at the entry to the lobby whose primary function was to bow as we entered, three women lined up as we walked to ward the reception desk who also bowed in turn, and our clients, with whom we exchanged multiple bows, business cards, and paperwork before they left us to our own devices for the next day and a half. People here are lovely, sleek, charming, refined. And way taller than I expected.
My room is way smaller than I expected! A delightfully brief symphony of stoic usefulness and attention to detail, the main area measures no more than 12 feet square. A tiny efficient bathroom, and a sliver of a closet. When the bellman hauled in my luggage, he took out his handkerchief and mopped his brow, smiling. Yes, I'll be offering much amusement to the locals…
We ventured out for a bite to eat, and within a few steps, down a brightly lit corridor, and up a flight of stairs found ourselves presented with twenty or so little restaurants, each with an array of plasticized food out front displaying the offerings within. We looked at them all and then closed our eyes and picked. Inside we were seated and served with the compassion that foreigners pray for. I had sashimi. I think I'll be having sashimi for every meal while I'm here. Jay had tempura. I think Jay would be happy to eat a training manual, as long as it was covered in soy sauce and wasabi paste.
We navigated the convenience market and tracked down the local holy grail – Starbucks. Now my GPS is set. From here, I can go anywhere!
The hotel is directly next to Tokyo Station, a major stop on the railway that circles through the city. From my perch on the 30th floor I can see the vastness that is Tokyo. It is splendid at night.